With 6,625 active listings on the market and just over 3 months of housing supply, our market is still tight and pricing remains strong.  While you might think it will, the market hasn't crashed and won't any time soon.  Let's consider local, objective data to explain what is going on.
CASH BUYERS
In the Jacksonville Metro Area, 27% of real estate transactions are cash.  Cash buyers can most certainly take advantage in this market.  Coupled with rising rents, cash transactions are spurring on our market and keeping pricing strong.  The luxury market is seeing 61% of $1M + transactions in cash across the state.
In conversations I've had with buyers many are relocating or looking to move funds from other investment assets in other states to Florida.  The market has not dried up and as this continues we will still see strong pricing.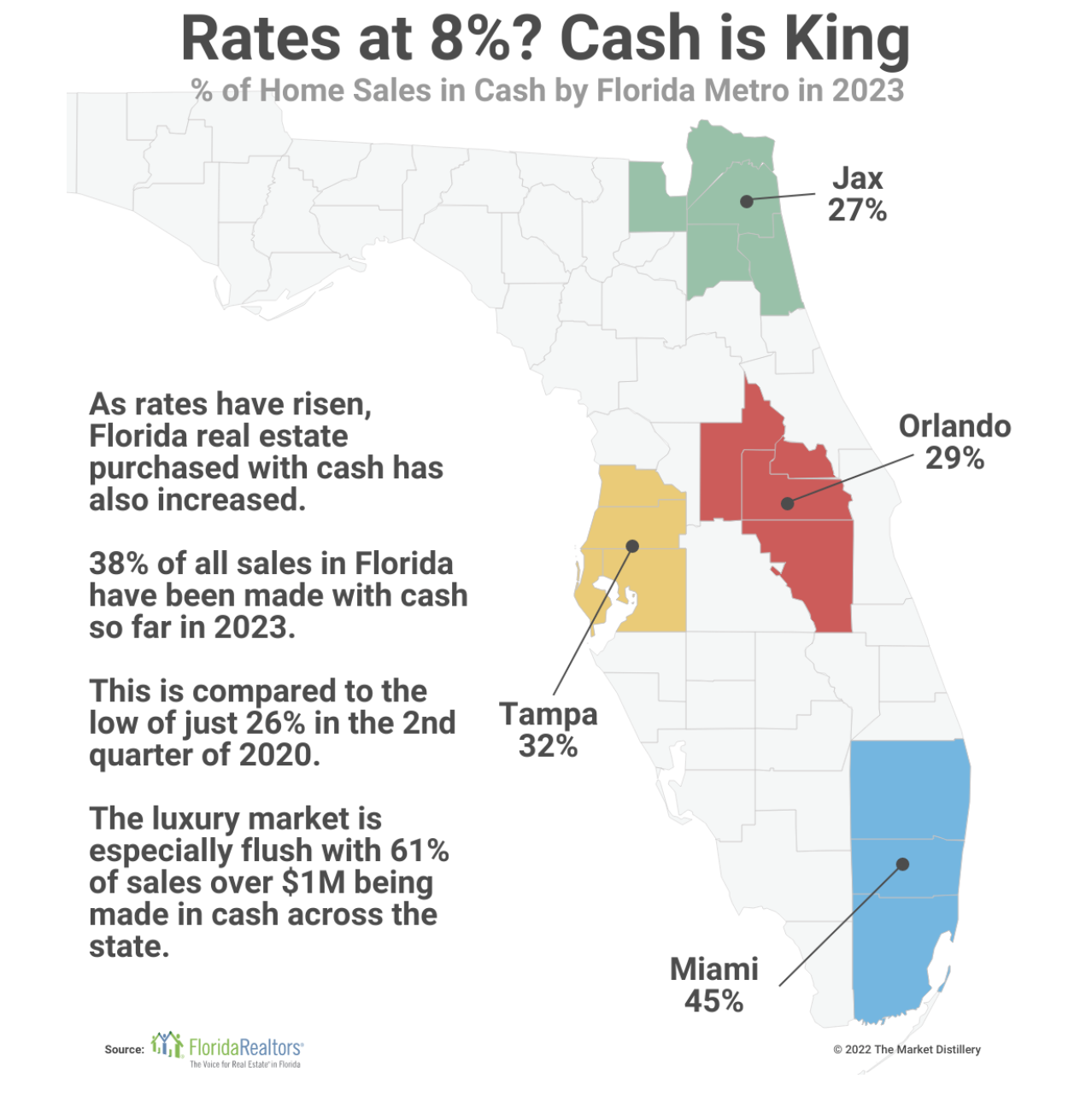 RENTS ON THE RISE
Rents are continuing to rise as people opt to rent vs buy. Almost all counties in Florida experienced an increase on average at about 5 percent, with 9 percent in Nassau.
This affects the number transactions and as people opt to rent, possibly due to the current interest rates or simply wanting to hold onto their cash, then we have less buyers in the market.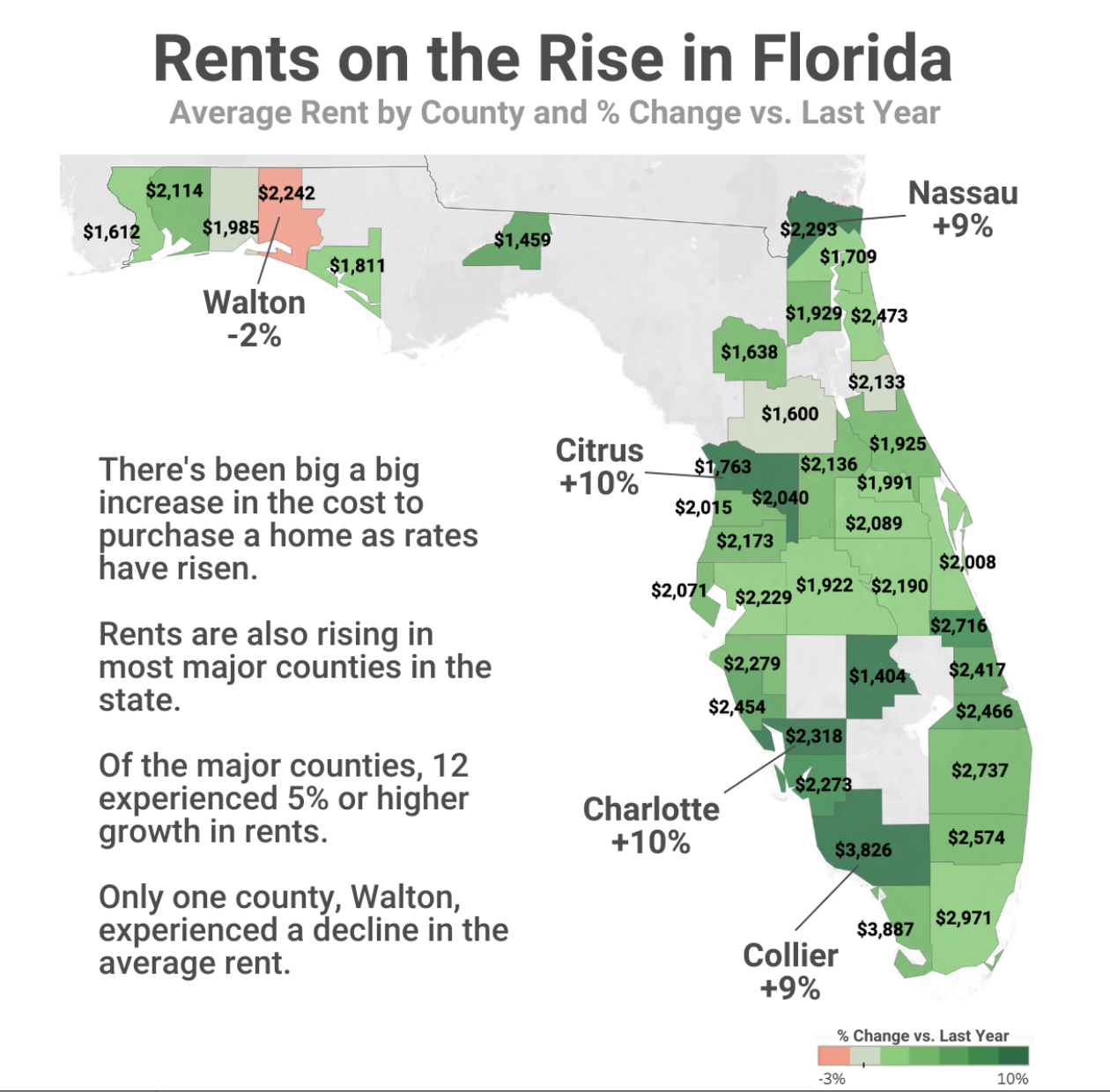 RATE BUY DOWNS
Builders are now offering rate buy downs which can be attractive to buyers looking to finance.  Colour Homes for example is offering a 4.75% rate with their preferred lender or a 2% buy down.
I am seeing more and more sellers offering this, or if you are buying, add it to your offer as a negotiation tactic. The 2/1 buy down means that the sellers will contribute an amount towards the buyer's payment for the first two years, or a specified term, reducing the payment by 1-2 percent.
RESIDENTIAL DATA – NORTHEAST FLORIDA  (Real MLS, September 2023)
Days on market are increasing. The median is now 34 days.
The number of active listings have decreased by 9% year over year.  September showed 7,679 listings.
Sold listings is down by 6% as the market remains tight
Luxury homes ($1M+) make up 4%  of the total of sold homes.  The 92 transactions in September made up a 15% increase compared to the same time last year.
Ponte Vedra Beach statistics skewed by 2 large transactions
| | | |
| --- | --- | --- |
| SEPTEMBER 2023 | ST. AUGUSTINE | PONTE VEDRA BEACH |
| Median List Price | $498,680(+3.13%) | $6,300,000 (+48%) |
| Median Sale Price | $438,675 (-6.66%) | $13,500,000 (+58%) |
| Average CDOM | 70 (+70%) | 144 (+364%) |
| # Active Listings | 1,387 (+11.9%) | 13 (+18.2%) |
| # Homes Sold | 365 (-4.5%) | 2 (-33%) |
Source: RealMLS (Northeast Florida Association of Realtors) Residential data for September 2023.  Percentages as compared to the same time in 2022.