With 6,500 active listings on the market and less than 3 months of supply, our market is still tight and pricing remains strong.  Each county is experiencing a different market so pay attention to the factors around where you live or own property.
COUNTY DIFFERENCES
Each county is experiencing a different market. There are micro markets with different dynamics going on, so you need to key in on what's happening in your neighborhood to make the most informed decisions.  St Johns County is reflective of the closings that happened for families prior to the school year starting.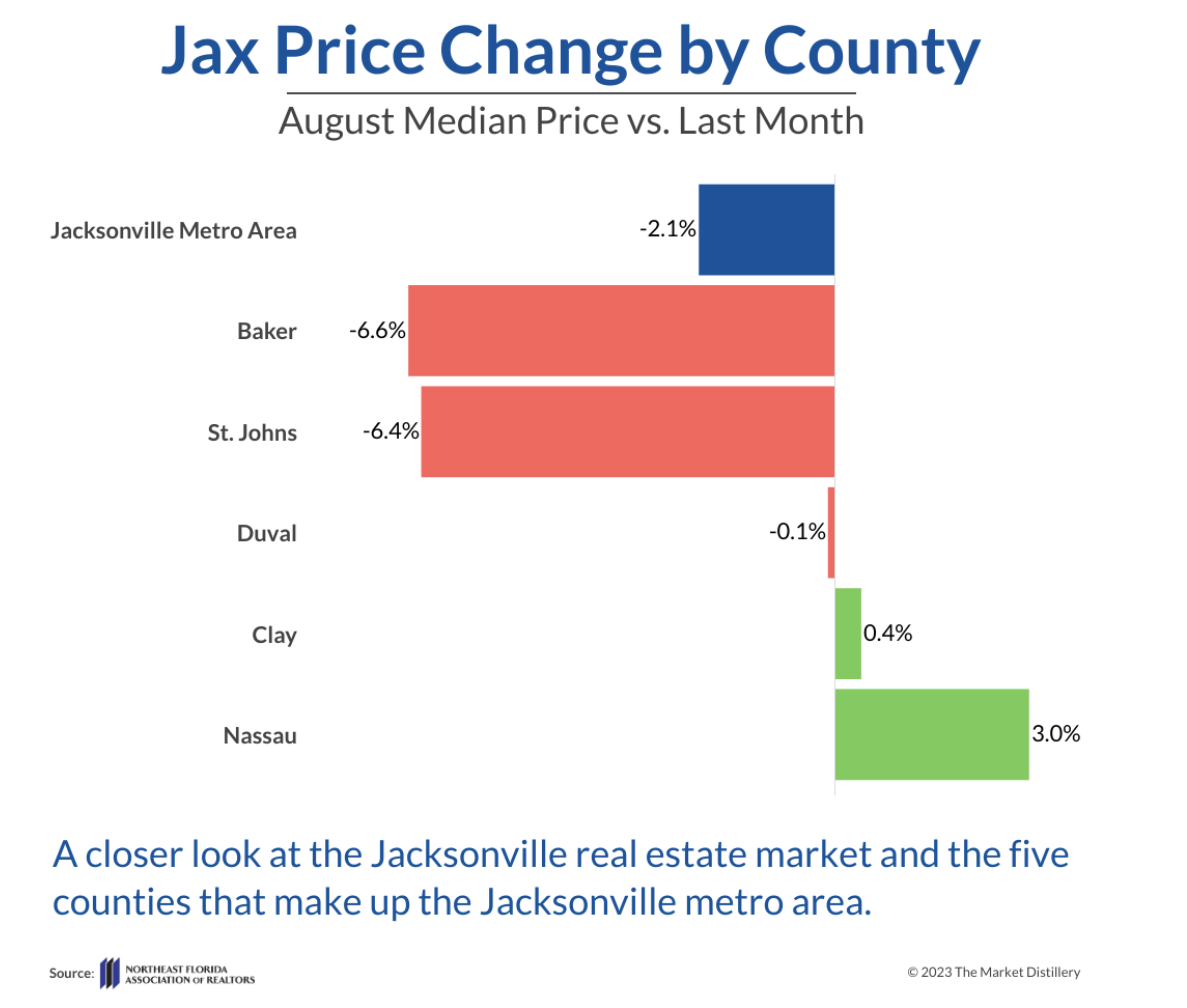 CASH BUYERS
Cash buyers can most certainly take advantage in this market.  Should the rates dip we will see a lot more buyers jump back into buying mode and that would likely force home prices higher.  To get the best price the time is now, and while those financing are holding off due to rate increases.
BUYERS THAT ARE FINANCING 
Where rates are today do not need to overly impact decisions, especially when you plan to live with those decisions for 2-10 years.  The rates will change and when they do you can refinance.  Get that dream home now and beat out any further price hikes.
Whether you are buying or selling you may want to consider a 2/1 buy down.  Sellers pay an amount towards the buyer's payment that knocks 2 percent off the rate for the first year, and 1 percent off the rate for the second year.  The buyer is free to refinance at any time.  For a $500K home, with 30% down, this is about a $11,000 difference which is a credit in closing costs vs price reduction to $489,000.
LUXURY UPDATE
In St Augustine, there were 22 homes that sold above $1M, making up about 6 percent of all homes sold in the month. This represents an increase of 69 percent as compared to the same time last year.
In Ponte Vedra Beach, 22 of the 50 homes sold were $1M or more.  In total the number of listings were down from by 12 percent as compared to the same time last year.
INVESTOR UPDATE
The oversupply of short term rentals has meant more are listing, opening up valuable opportunities for primary home buyers.  Some of these short term rentals are turning into long term rentals when it makes sense financially, resulting in what we are starting to see as a more than 50% increase on rental inventory.  While we still need rentals, landlords should be sure to price rents correctly to avoid lulls in occupancy.  Fixers and flips are still few and far between in the $150-$250K price point and those that are correctly priced are seeing multiple offers.
RESIDENTIAL DATA – NORTHEAST FLORIDA  (Real MLS, August 2023)
Days on market has more than doubled compared to the same time last year. The median is now 32 days with the average more than 55 days.
The number of active listings have decreased by 9% year over year.  August showed 7,324 listings.
Sold listings is down by 8% as the market remains tight
Luxury homes ($1M+) sold are showing a relatively small 10%  increase overall as compared to last year.
| | | |
| --- | --- | --- |
| AUGUST 2023 | ST. AUGUSTINE | PONTE VEDRA BEACH |
| Median List Price | $499,000 (+5.72%) | $1,382,000 (+6.45%) |
| Median Sale Price | $435,000 (-6.65%) | $861,896 (+9.87%) |
| Average CDOM | 69 (+102%) | 62 (+63%) |
| # Active Listings | 1,311 (+11.8%) | 176 (-6.4%) |
| # Homes Sold | 365 (-4.5%) | 50 (-26.5%) |
Source: RealMLS (Northeast Florida Association of Realtors) Residential data for August 2023.  Percentages as compared to the same time in 2022.