Investing in Florida Real Estate
Smart investors know that real estate is a must in your portfolio. Whether you're investing in real estate for the first time or a seasoned pro, allow me to take some of the heavy lifting off your plate.
Do you have a cap rate you want to meet, or a NOI you want to achieve? What return are you looking for and what is your end goal?

I will initiate a property search with your investment criteria in mind. From residential multi family, flips, vacation rentals and beach houses, I will work alongside you and your investors to propose, research and gather all the numbers you need to make the right decisions.

If you are considering selling a rental property or vacation rental we can position the property in the right light, and market directly to investors. Allow me to produce a custom marketing plan that will get results. Saving you time, money and getting you to your end goal is my priority.

Welcome to my guide to investing in real estate. I hope it inspires you to get started or enables you to build on your portfolio.

Mindy Nicol
President, Northeast Florida Properties
REALTOR®, Keller Williams Realty Atlantic Partners
904-808-3280
[email protected]
nefloridaproperties.com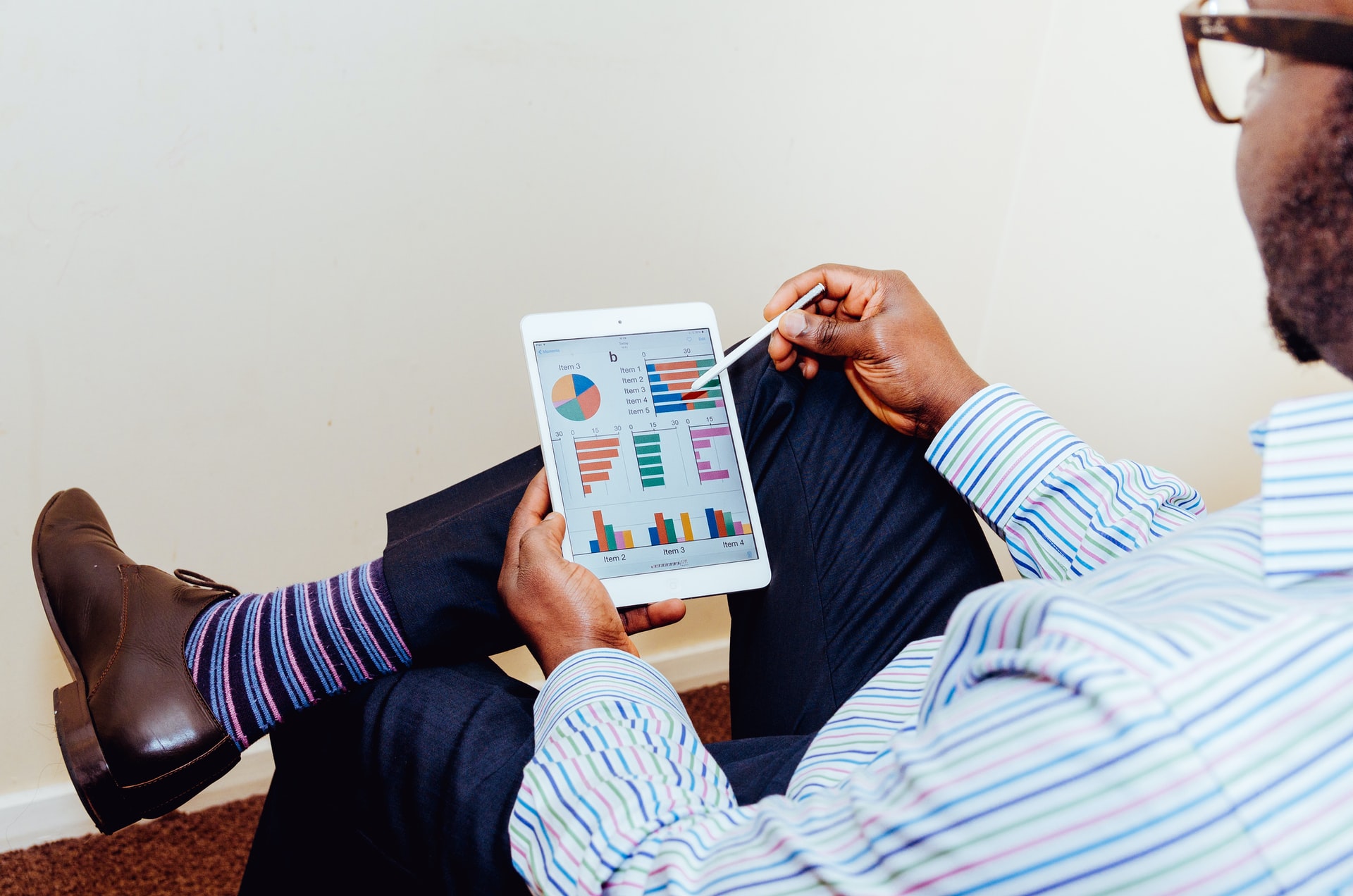 Getting started
You already know why it makes sense to invest in real estate, but how can you actually get in the door, or find more properties in Northeast Florida to build on your portfolio. Whether you are working alone or with a group of investors, let's get started.
Some key things to know
Let's cover some basics first. The business of investing means you need to know, or be able to project income and expenses, both fixed and variable, and determine what you'll actually make in profit.
Let's say you own a rental home and the home rents for $1,000, and the tenant pays $100 extra for use of the pool. That means $1,000 + $100 = $1100 is your total income.
Income can also include late fees, parking, pet fees, laundry, valet trash, or any other revenue your rental also brings in. If there is advertising or a billboard on the site you can sell the ad space and get revenue from that too.
It is important you not only understand the market rents but also what else you can charge for on the property. This all adds up.
You'll also want to assume a vacancy rate in order to be realistic and reduce that from your projected rental income. The rate will depend on the specific market you're looking in.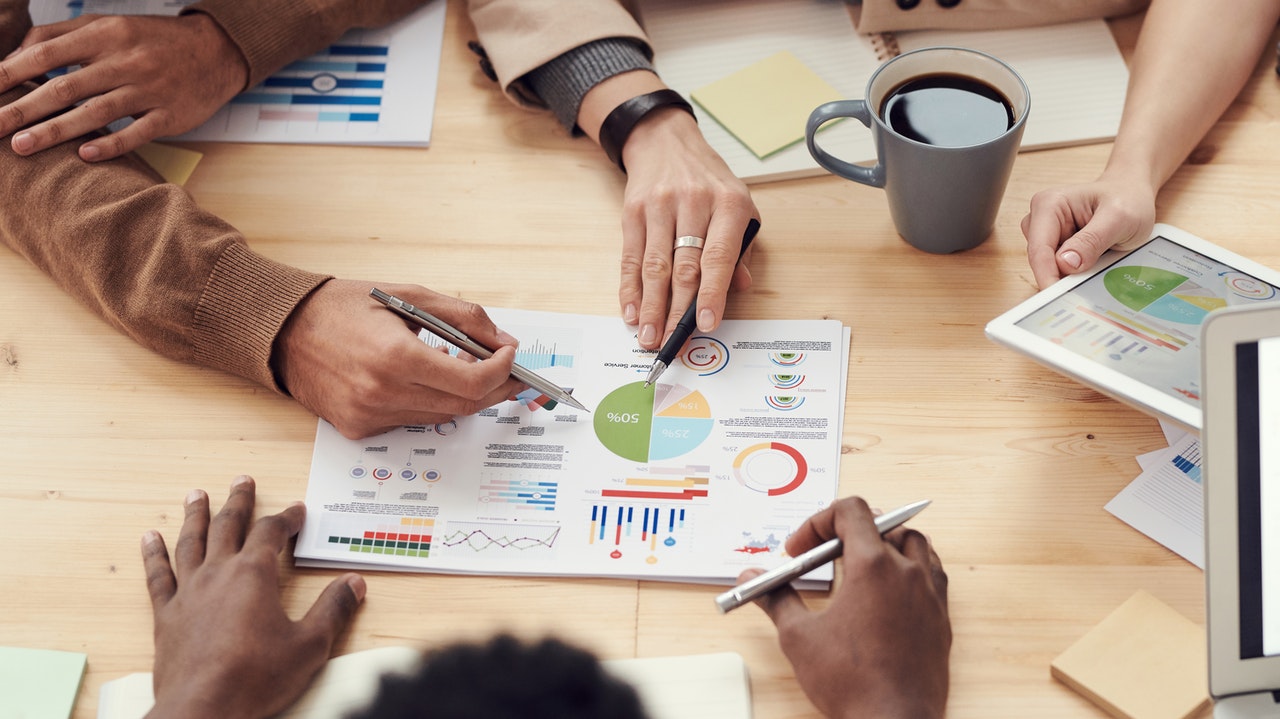 Your business plan
Starting with a business plan is very important in order to avoid failures from planning and preparation. This would be the time to loop me in as I can research numbers and explain the right marketing plan.
You'll want to include:
Mission Statement – aka your purpose.
Your goals – where you want to go and what you want to achieve
Your strategy
Your timeline – do you have an exit timeline? If so, when?
Your market – where do you plan to look? Is geography important? Does it need to be driving distance from your home?
Your criteria – what is your loan to value ratio, cash flow requirements, maximum purchase price and how much is your budget to rehab the property?
Your marketing plan – how will you find motivated sellers, and once you own the property, how do you plan to find motivated renters?
Financing and other investors – will you be getting a loan, or do you have OPM (other people's money)? Do you need to connect with lenders? What do your other investors expect in return for their investment?
How will you turn your purchase into a profit?
Who will be part of your team? You may need a good realtor, lenders, a real estate attorney, title company, handymen, accountant, insurance agent, contactor, property manager, painters, etc. Do you have these already or do you need to find them?
What's your exit strategy?
Can you project out your 10-year plan on a spreadsheet? You may need to illustrate purchases, cash flow, appreciation etc.
What does the investment inventory look like in Northeast Florida?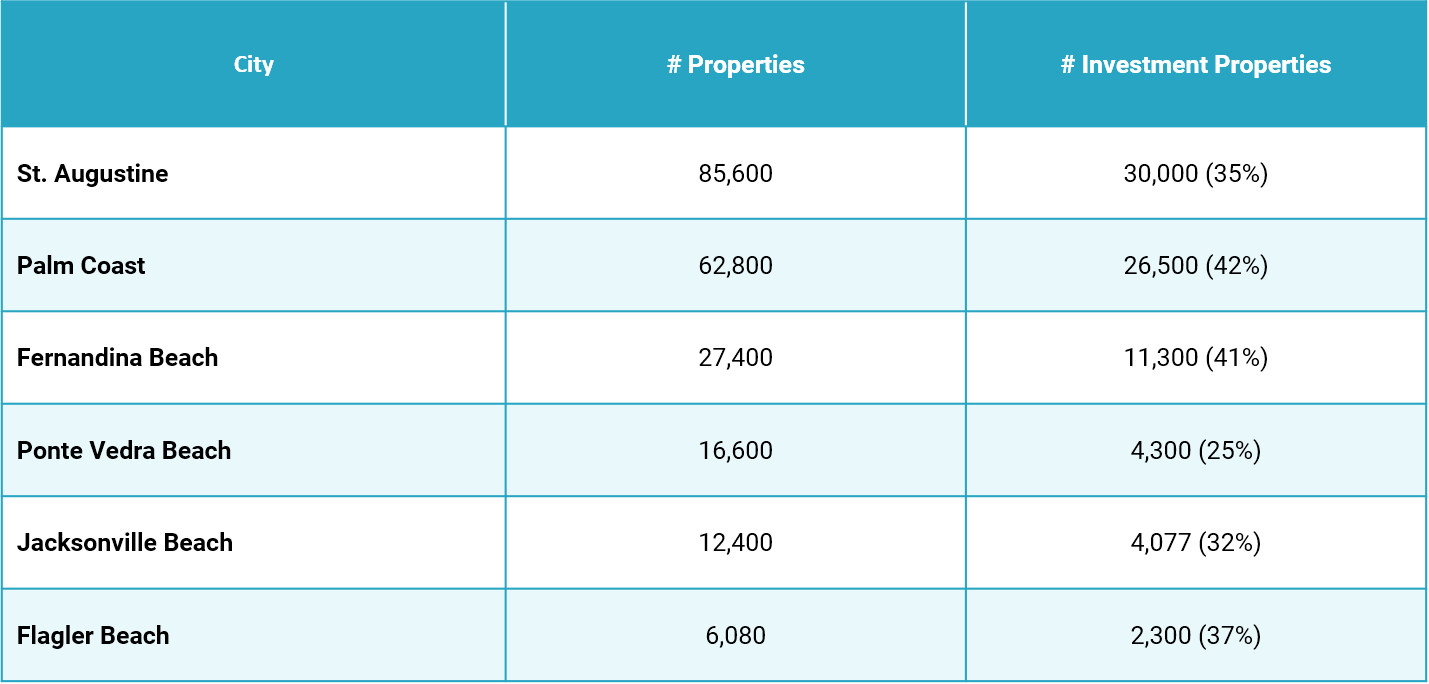 Source: TitlePro247 – as of January 2022. Residential properties currently held by absentee owners.
How has the market been faring over the past year?
(Source: NEFAR, St John's County)
The market is strong and moving quickly with less days on market than in 2020
15% of properties closed over list price
The median sales price has increased by 30%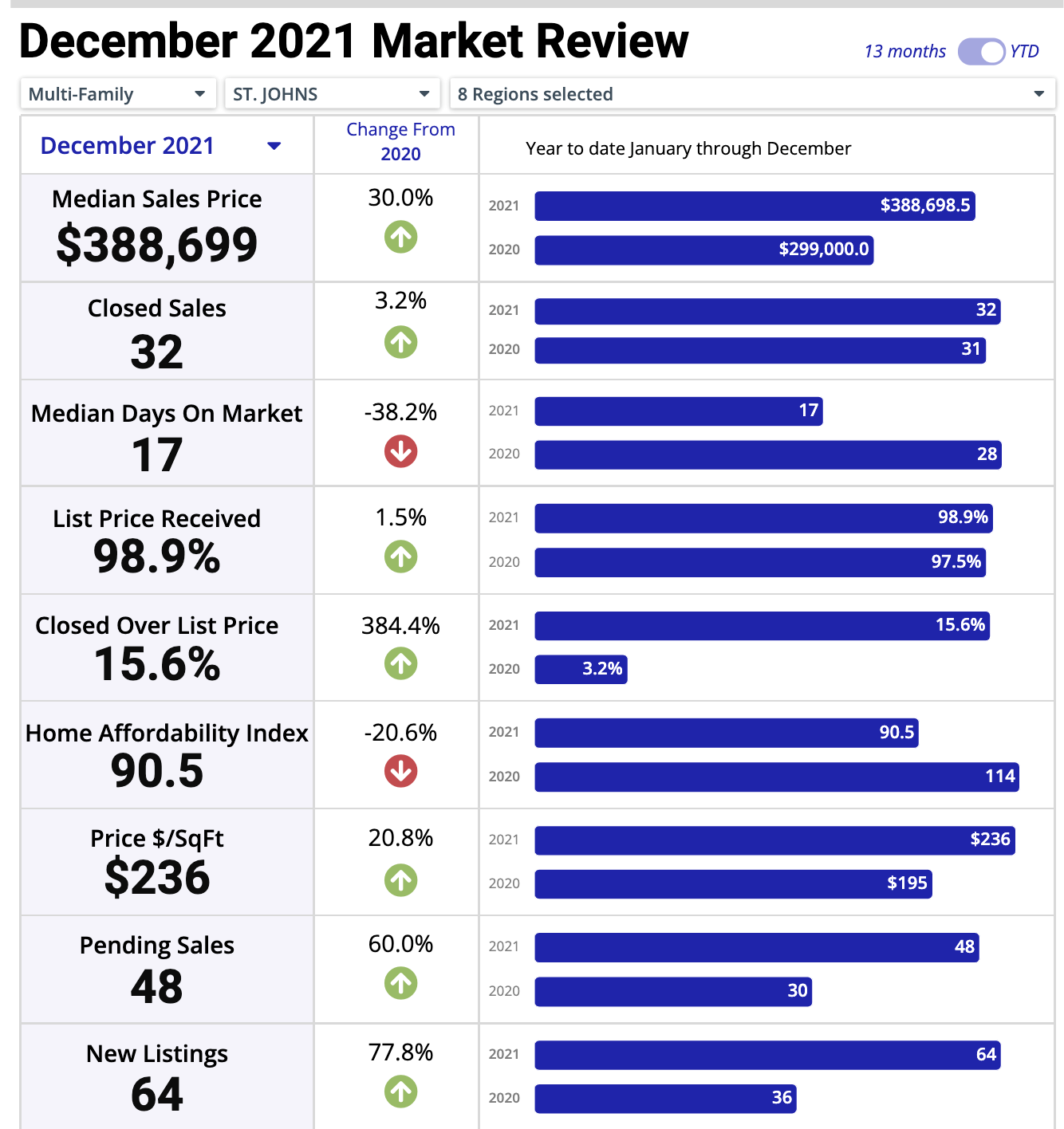 Criteria for your investment
Here is a list of criteria to ask yourself
Where do you want the property to be? Does it need to be driving distance from your home?
What size property, and what size lot, how many units?
In terms of property condition, how much fixing up are you prepared to do?
What cap rate are you looking to achieve?
What cash flow are you looking for?
Should the property have appreciation potential?
Getting information on the property
The MLS doesn't include much info from an investment perspective. You'll want to check out Loop Net which has a lot more detail and both commercial and residential properties.
Exit strategies
While some investors choose to hold onto their property investments for the long-term, others, especially when they have other investors, plan an exit strategy.
It's a smart idea to work with a realtor who understands investment properties. The fact is 20% of the agents sell 80% of the listings.
Establishing your list price is important. You don't want to list too high or too low. We can work together to compare comps and come up with the appropriate price to list at that will enable multiple investors put offers on the property.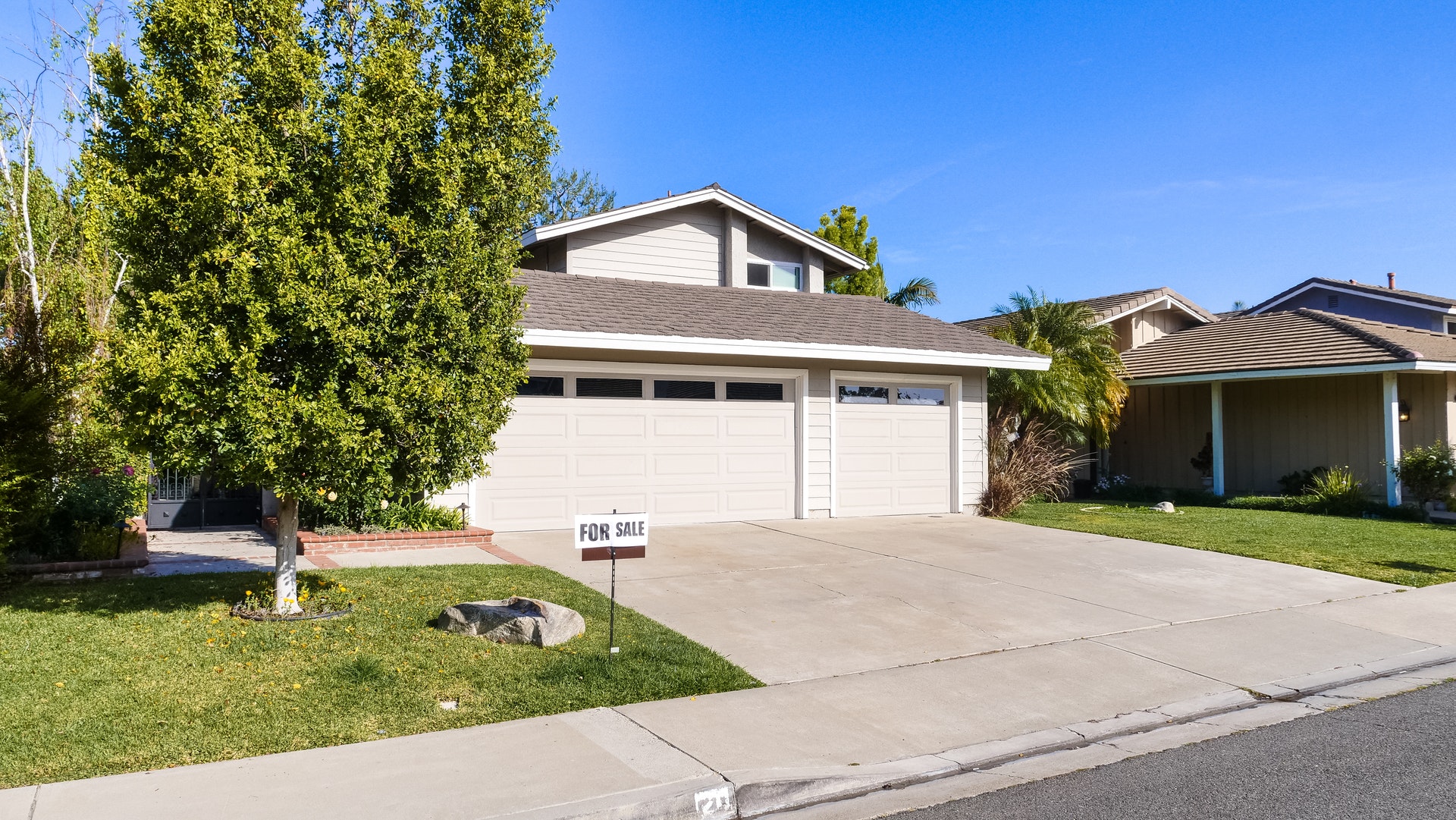 1031 Exchanges
Should you be looking to sell an investment property and buy another you may need to do a 1031 exchange in order to defer tax implications to a later time. If done correctly you can use the money you would have paid towards capital gains tax and put it towards your next property. Be sure to talk to your accountant as well as partner with a 1031 exchange intermediary and get this started before you sell your property and buy another. The replacement property must be identified within 45 days, (up to three properties) and then you need to close on one property within 180 days. Do your due diligence to understand this yourself before you decide to sell.
Here are some formulas to have on hand
Calculating NOI and Cap Rate
Net Operating Income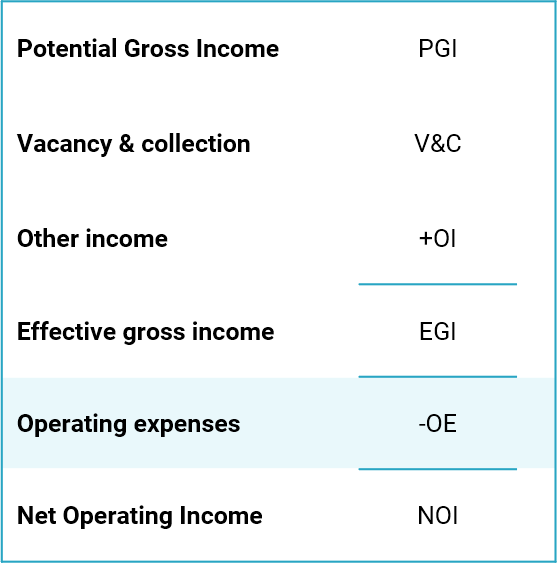 Investable Income Tax Calculation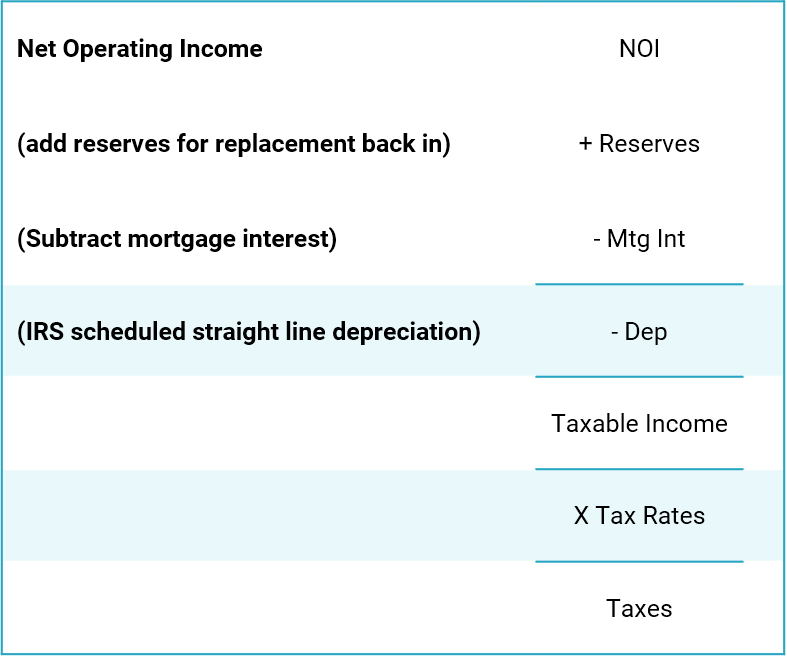 Before and After Tax Cash Flow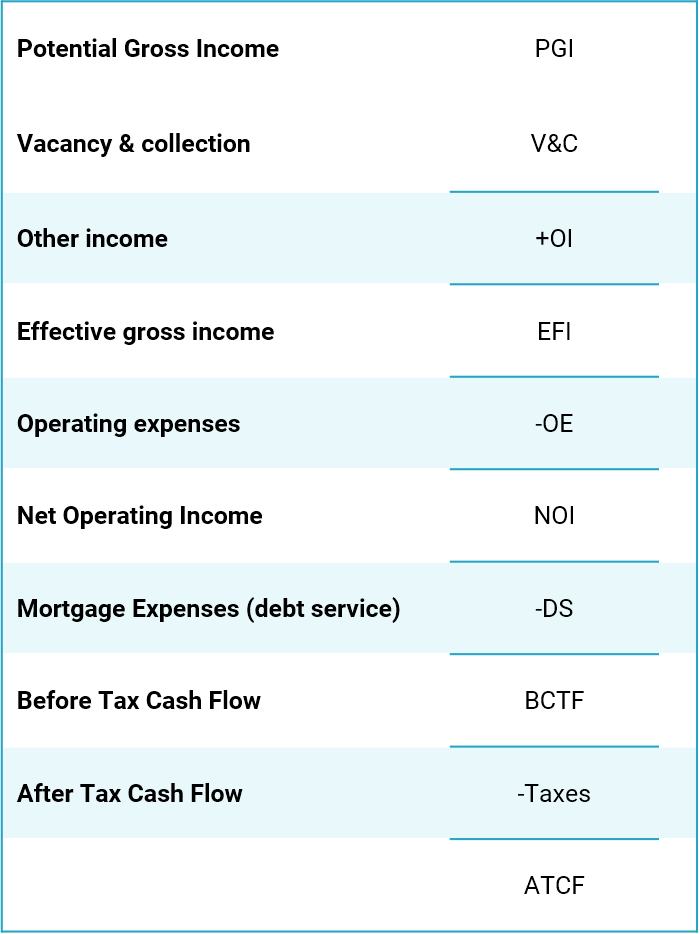 The language of real estate investing
Learn these terms to build your knowledge and get the basics of real estate investing.
Expenses
Expenses will include things like trash, irrigation, landscaping, basically anything needed for the upkeep of the property. In addition, you'll need to cover property taxes, insurances, repairs and maintenance.
Debt Service
This is your mortgage. You'll want to separate this out from your expenses in order to be able to project the net operating income (NOI) without looking at financing terms. NOI is also required to calculate a cap rate.
Return on Investment
Your ROI is what you'll make on the property each year. It is the difference between your income and expenses. You can then equate that into a percentage of ROI.
Short term rental
This is usually a vacation rental, condo or apartment that is rented out on a weekly basis.
Long term rental
This is usually a long-term rental where tenants pay each month and the lease is 6-12 months.
Equity
Equity is the present value of the property less the mortgage owed to the lender.
Cash Flow
Cash flow is total expenses less the total income. Cash flow is the amount that an investor can keep at the end of each month after all operating expenses (including debt service/mortgage payments) are covered. If you spend less money than the revenue coming in, then cash flow will be positive. If you spend more than revenue you will have a negative cash flow.
Pre-Approval Letter
A pre-approval letter is a letter offered by a bank before you start looking for a home or apply for a mortgage to determine what you can afford. It assures home sellers that you can be granted a loan when needed.
Seller's Market
This is a real estate market where the demand from property buyers exceeds the supply of property for sale. Property prices tend to be higher and more attractive to sellers.
Buyer's Market
This is a real estate market where the demand for properties for sale is lower than the supply. Property prices are usually low, making it an ideal market for buyers.
Appreciation
Appreciation is an increase in the value of a real estate property over time. The increase in value may be due to a number of reasons such as inflation, increased demand, or weakening supply.
Predictive Analytics
Predictive analytics is the analysis of big data using historical data to predict future trends. Predictive analytics provide real estate investors with reliable forecasts of the return on investment they can expect from a particular investment property.
Hard Money Loan
A hard money loan is an asset-based loan issued by private investors or organizations. They are typically quick to fund but have higher interest rates than conventional loans.
Net Operating Income (NOI)
Net operating income is income that is generated annually from an investment property after deduction of property expenses. These expenses may include property tax, property management fees, and utilities.
Debt-to-Income Ratio
This is a personal finance measure used to compare the monthly debt payment of an individual to their monthly gross income. Lenders use this metric to measure the ability of an individual to manage monthly debt repayments.
Cash on Cash Return
Cash on cash return is the ratio of annual cash flow before tax to the total cash invested, expressed as a percentage. This financial metric allows investors to assess the cash flows from their income-generating assets.
Cap Rate
Capitalization rate, or cap rate for short, is used to measure the annual rate of return on a real estate investment based on the profit that property is expected to generate. Simply put, it's the ratio between the net operating income (NOI) and purchase price.
Off-Market Property
An off-market property is one that has been sold or is in the process of being sold without any public knowledge or advertisement. Off-market properties are not listed on the public MLS for sale.
Internal Rate of Return
Internal rate of return is the discount rate at which the net present value (NPV) of all cash flows from an investment or project are zero. This metric is used to estimate the profitability of potential investments.
Real Estate Agent
A real estate agent is a licensed professional that represents sellers or buyers in real estate transactions. This is usually the starting point for most real estate professionals. A real estate agent usually works under a licensed broker.
Realtor
A realtor is a person who acts as an agent in real estate transactions and is a member of the National Association of Realtors. A realtor must abide by the standards and code of ethics of the association.
Real Estate Broker
A real estate broker is a licensed professional who represents buyers and sellers of real estate and can work independently.
Rental Property Calculator
A rental property calculator is an online tool that helps property investors to determine the return on investment, cash flow, and cap rate on a rental property. Investors put in basic information about an investment property such as purchase price, property expenses, and financing. This tool is typically used to evaluate and decide if a rental property is a good investment before purchase.
Cash-on-Cash Return
This is the ratio of annual pre-tax cash flow to the total amount of cash invested, expressed as a percentage. Annual pre-tax cash flow / actual cash invested = Cash-on-cash return
CapEx
"CapEx" or Capital Expenditures, are defined as new purchases or major improvements that extend the life of a property, such as replacing a roof, updating a kitchen or finishing the basement.
HOA fees
A homeowner's association is an organization that creates and enforces rules for the properties located in a subdivision, community or condominium. Purchasing property within an HOA's jurisdiction means you automatically become a member and are required to pay monthly HOA fees.
Gross Rental Yield
Gross rental yield is the total income generated by a property, divided by the price paid for the property and associated closing costs.
Appreciation
Appreciation is an increase in the value of an asset over time. The increase can occur for a number of reasons, including increased demand or weakening supply, or as a result inflation or interest rate fluctuations.
Adjustable Rate Mortgage (ARM)
An adjustable rate mortgage (ARM) is a mortgage that does not have a fixed interest rate.
Fixed-Rate Mortgage
A fixed-rate mortgage is a mortgage loan that has a predefined interest rate for the entire term of the loan that never changes.
Equity
Equity is the difference between the current market value of the property and the amount that you (the owner) owe on the property's mortgage.
Turnkey Property
A turnkey property is a home or apartment that is completely, or very close to move-in ready.
Capital Gains Tax
Capital gain or loss is the difference in the value of a property compared to its purchase price. If there is a gain, it is realized after the asset is sold. A short-term capital gain is one year or less; a long-term gain is more than a year.
Debt-to-Equity Ratio
In real estate, debt-to-equity (D/E) ratio is a measure of ownership. This ratio helps you determine how much of your property is actually yours (if you took out a mortgage to finance it) and how much you owe in debt
Escrow
Escrow is when an impartial third party holds on to something of value during a transaction. When you make an offer on a property, your deposit will be held by an impartial third party in a separate bank account until the contract has been negotiated and the deal has been closed.
Closing Costs
Closing costs are the fees paid at the end of a real estate transaction. These fees vary depending on where you live, the property you buy, and the type of loan you choose. There are costs associated with inspections, transfer of title, loan origination fees, etc.
Internal Rate of Return (IRR)
This is a common real estate investment term you'll see when browsing rental properties or crowdfunding websites. The internal rate of return (IRR) is a measurement of a property's long-term profitability that takes into account the annual net cash flow and the change in equity over time.
Inspection Contingency
An inspection contingency is a term in the purchase agreement that lets the buyer:
Hire a home inspector to look at the home
Receive a report from the inspector on the home's condition and issues
Negotiate a sharing of the new costs with the seller or terminate the purchase agreement and get their earnest money deposit back
MLS
The Multiple Listing Service (MLS) is a private offer of cooperation and compensation by listing brokers to other real estate brokers, according to the National Association of Realtors. There are over 800 MLSs throughout the United States.
FSBO
For Sale by Owner (FSBO) is a term used to describe a real estate owner that is selling his or her property without using a real estate agent or listing the property on the MLS.
FDR
Formal Dining Room (FDR) is a room for dining that is separate from an eat-in kitchen or breakfast nook found in many open floor plans in houses built today.
CMA
Comparative Market Analysis (CMA) is a report that shows active and sold listings, listings taken off of the market, and listings that expired without being sold during a specific time period and in a specific neighborhood or geographic area.
ABR
Accredited Buyer Representative (ABR) is a designation for real estate agents who have received special training and practical experience required by the Real Estate Buyers Agent Council, or REBAC. An ABR normally specializes in representing only buyers rather than working with sellers to list property.
NAR
National Association of REALTORS® (NAR) is the largest trade union in American with about 1.4 million members working in all fields of the residential and commercial real estate industries. There are around 1,200 local associations/boards, and 54 state and territory associations of REALTORS®.
PITI
Principal, Interest, (Real Estate) Taxes, and Insurance (PITI) is a monthly payment of most residential mortgages.
FMV
Fair Market Value (FMV) is the reasonable price that a property would sell for on the open market when both buyer and seller are reasonably knowledgeable, free of undue pressure to complete the transaction, and are behaving in their own individual best interest.
LTV
Loan-to-Value (LTV) is a percentage that measures the total debt or leverage on a property compared to the market value. In most cases, real estate investors will use a conservative LTV of no more than 75% to 80%.
RTO
Rent to Own (RTO) combines a real estate lease agreement with a real estate purchase agreement.
FHA
Federal Housing Administration (FHA) is a government agency that insures FHA mortgage loans. FHA loans are popular with first time home buyers because they allow for low down payments of 3.5% and low credit scores of around 580 or lower.
CRB
Certified Real Estate Brokerage Manager (CRB) is a professional designation designed for experienced owners of real estate firms, brokers, managers, and supervisors who want to raise their professional standards and improve the operation of their business and branch offices.
GRI
Gross Rental Income (GRI) is the amount of money collected in rent plus any additional income such as application fees, pet fees, parking fees, advance rent, or any expenses paid by the tenant to the landlord that are not required as part of the lease.
SFH
Single-family Home (SFH) is the most common type of rental property for real estate investors. An SFH is a free-standing house that is different from a townhome or apartment because it does not share walls or utilities with the nextdoor property and has its own plot of land.
HVAC
Heating, Ventilating, and Air Conditioning (HVAC) systems are used to heat and cool a house.
GRM
Gross Rent Multiplier (GRM) is the ratio of the price of a rental property to its gross rental income before expenses.
PMI
Private Mortgage Insurance (PMI) is an extra insurance charged by lenders to borrowers making a down payment of less than 20%.
REO
Real Estate Owned (REO) is property owned by the bank or lender that has already been foreclosed on but hasn't been sold at auction.
CRE
Commercial Real Estate (CRE) is income-producing property that falls into the main categories of land, industrial, retail, office, special use (such as a gas station or government building), and larger multifamily apartment buildings.
There's a lot to know and it can easily get intimidating. The main thing is to think of it as a business and imagine how it can be profitable. The calculations will help you determine and project the success you are looking for. I look forward to helping you as you grow and succeed in your business goals.
Sincerely,
Mindy Nicol
President, Northeast Florida Properties
REALTOR®, Keller Williams Realty Atlantic Partners
904-808-3280
nefloridaproperties.com