One of the biggest questions I get is around new construction.  Here's an update on this on the St. Augustine, Florida area.  There are many more builders and communities here, but today I just wanted to list 6 that are popular.  If you are looking into new construction in other areas or if you have questions on new construction homes let me know!
Here is a map I put together to show you where the communities are located.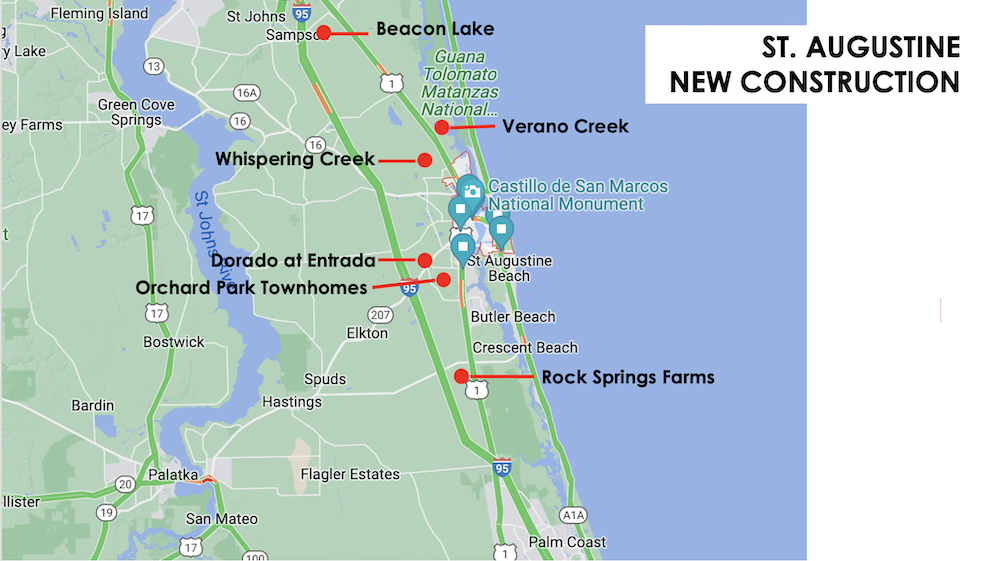 There are a lot of options here in St Augustine and many more projects are on the way!  Here is a map to show you just some of the many new communities from our local home builders.
ORCHARD PARK TOWNHOMES (KB HOME). This is a community made up of 200 homes and there are 23 townhomes left to sell. The townhomes start from low $300s for 2-3 BD homes. Because they are pre-built there is no customization.
ENTRADA, ST AUGUSTINE (DR HORTON) – Dorado at Entrada has 9 available homes. Entrada itself is sold out.
ROCK SPRINGS FARMS, ST AUGUSTINE BEACH (DR HORTON) has just a few available homes left from $497,000. Reach out to me today if you are still interested in these homes.
WHISPERING CREEK (DR HORTON) – 6 available townhomes currently and pricing starts at $264,000.
VERANO CREEK (RICHMOND AMERICAN), just 6 miles from downtown St Aug they have 4 bedroom homes starting from $446,000. Four homes are under construction and for sale.  Three homes are permitted and will be built in the future.  The HOA is $820 per year with no CDD. Walking trails, dog park, lake.  The to be built homes have options to customize to your taste such as countertops, flooring, cabinets.
BEACON LAKE, SUNSET VISTA (DREAM FINDERS HOMES). They have single family homes and townhomes available.  The popular Antigua in St Augustine is now sold out.